Bekoka Baby Diapers Size 3
0.00$
BEKOKA baby diapers size 3 for unlimited protection and suitable for babies weighing (4-9 kg). BEKOKA baby diapers contain no scents, lotions, parabens, chlorine, or natural rubber latex.
childdiapers / Pre-sale Questions
To get the best price contact us
comparison

شارك
Description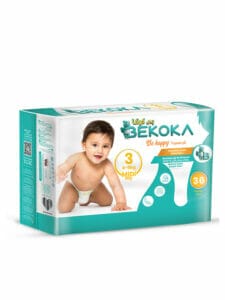 We created BEKOKA diapers because hardly anything compares to a parent's care for their beloved baby. We want to share that passion while also making parents' lives easier. BEKOKA baby diapers size 3 have unlimited protection and guarantee babies' rest during the day and night without leaking liquids and excrement. Our professional experts are interested in developing it with a soft texture. In addition, BEKOKA diapers have a super absorbing layer.
Specific information about BEKOKA baby diapers size 3:
Diaper Weight:  (±2) 22 g
Total Length: (±5) 42 cm
Length of diaper center area: (±5) 36 cm
Absorption quantity: (±10) 320 mm
BEKOKA baby diapers size 3 are the best product for expanding your diapers business because:
It is Super absorbing as it contains a large green layer that quickly absorbing fluids across the diaper. 

It has stretchy sides that allow babies to move and play freely.

Side tapes can be opened and resealed many times. 

The inner surface consists of soft-textured natural materials, so your baby feels comfortable.

A breathable back sheet allows air to enter the diaper.

Strengthening leak barriers prevent leakage.
For more details and to purchase this product follow this guide:
PRODUCTS

Commercial

Size
Pieces     Per Pack
Packs        Per Bundle
Barcode
Order Code
New burn
1
44
5
8699096965212
6441
Mini (3-6 kg)
2
40
5
8699096964420
6442
Midi (4-9 kg)
3
36
5
8699096964437
6443
Maxi (7-18 kg)
4
32
5
8699096964444
6444
Junior (11-25 kg)
5
28
5
8699096964451
6445
Extra Large (16+ Kg)
6
24
5
8699096964468
6446
For more details contact us here.
Only logged in customers who have purchased this product may leave a review.