Bekoka Large Size Diapers For Adults
0.00$
BEKOKA large size diapers for adults are made of natural ingredients that guarantee natural care for seniors and adults both men and women. The packet contains 10 pcs.
childdiapers / Pre-sale Questions
To get the best price contact us
comparison

شارك
Description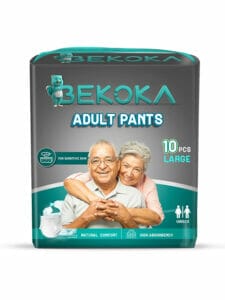 Because many elderly persons suffer from incontinence and diarrhea, BEKOKA created natural senior diapers to help them live joyful life. BEKOKA large size diapers for adults are made of ultra-absorbing polymers to keep your loved one dry and comfortable both day and night. The waistband is stretchy in the front and back, with double-strip stabilizers. It is also designed to fit the adult body shape adequately. The exterior shell resembles fabric, facilitating air passage and adding comfort by not making a sound during movement. It is also good for persons with sensitive skin.
BEKOKA large size diapers for adults are recommended by doctors and specialists for the following reasons:
BEKOKA adult diapers improve fit, comfort, and dignity, while soft anti-leak ingredients prevent leakage and improve containment.

A flexible and well-ventilated waistband makes it easy to use.

The exterior part of the diaper allows air passage to prevent rashes.

BEKOKA diapers are made of soft natural materials with textural texture, which give a gentle feeling to the skin.

It is Super absorbing as it contains ultra-absorbing polymer (SAP) mixed with pure cellulose pulp.
BEKOKA diapers are friendly to you and to the environment.
For more details contact us here.
Only logged in customers who have purchased this product may leave a review.