Bekoka Night Feminine Pads, Size 3
0.00$
BEKOKA night feminine pads are designed with wings. The super economic packet consists of 14 pieces. It is specially designed for super absorption at the time of peak period flow during day and night.
childdiapers / Pre-sale Questions
To get the best price contact us
comparison

شارك
Description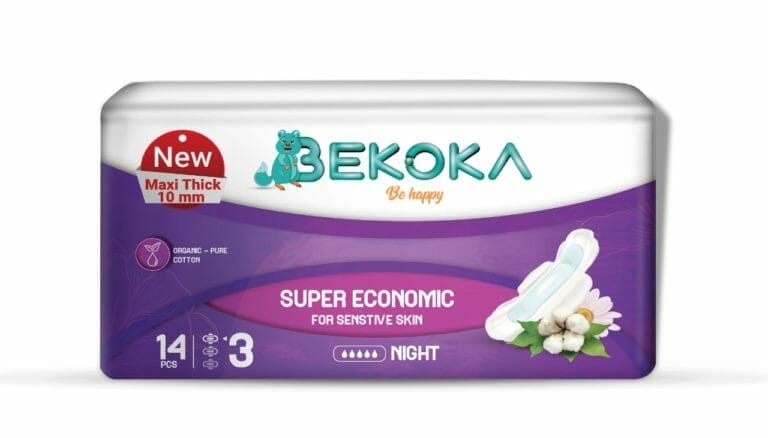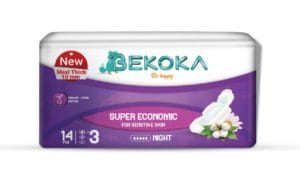 BEKOKA night feminine pads with wings are ultra-absorbent, providing you with superior comfort both at night and during the day. BEKOKA pads cater to your needs during your period and alleviate discomfort throughout this hard time. In comparison to traditional pads, BEKOKA pads provide maximum protection due to their unique design and enormous absorption ability.
BEKOKA night feminine pads have the following amazing features:
BEKOKA feminine pads are made of ultra-soft material that is 100% pure cotton, providing superior comfort. The thin bottom part allows for airflow and breathing.
BEKOKA pads are chemical-free and healthy, protecting you from rash and allergies. Pure cotton provides superior comfort and is suitable for women with sensitive skin.
Absorbing four times as much: Bekoka pads for women are made of ultra-absorbing, high-quality polymers that are four times more absorbent than standard feminine pads, making them ideal for all women.
It has wings: the sides are designed to prevent leakage, to feel comfortable, and to move and walk freely.
BEKOKA feminine pads are the perfect choice to expand your business, don't hesitate to contact us.
Only logged in customers who have purchased this product may leave a review.