Bekoka Medium Size Diapers For Adults
0.00$
BEKOKA medium size diapers for adults promote super care for men or women. Its size is small and the packet contains 10 pcs.
childdiapers / Pre-sale Questions
To get the best price contact us
comparison

شارك
Description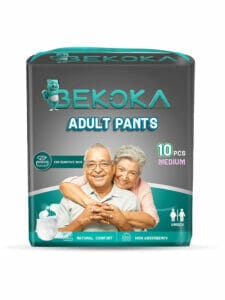 BEKOKA medium size diapers for adults are lightweight, comfy, and effective at preventing leaks. It helps seniors to live his\her normal life and allows for the passage of air. It has a double axis and wide strips that allow for several modifications. It also contains a wetness indicator to indicate the right time for a change. BEKOKA diapers are the best for weak people and handicapped.
Doctors and experts recommend choosing BEKOKA medium size diapers for adults due to these features:
BEKOKA adult diapers improve fit, comfort, and dignity, while soft anti-leak guards ingredients leakage and improve containment.
A flexible and well-ventilated waistband makes it easy to use.
The exterior part of the diaper allows air passage to prevent rashes.
BEKOKA diapers are made of soft natural materials with textural texture, which give a gentle feeling to the skin.

It is Super absorbing as it contains ultra-absorbing polymer (SAP) mixed with pure cellulose pulp.
BEKOKA is the best choice for your beloved ones.
For more details contact us here.
Only logged in customers who have purchased this product may leave a review.